And to make sure that the pigments that you use don't fade over time or due to environmental influences. In other words, when it comes to aesthetic skin imperfections, the level of responsibility of the specialist becomes very high.
That is why I have adapted the ESTHETIC LINE collection taking into account all factors affecting the quality of work, and each pigment is not put there by chance, but as a result of my many years of professional experience.
ESTHETIC LINE is now one of the secrets of the high quality of my work. The pigment collection is specially designed to correct various defects, deformities, skin dyschromias, for colour correction and restoration of breast areolae and various unsuccessful colour solutions, which were previously performed with other pigments.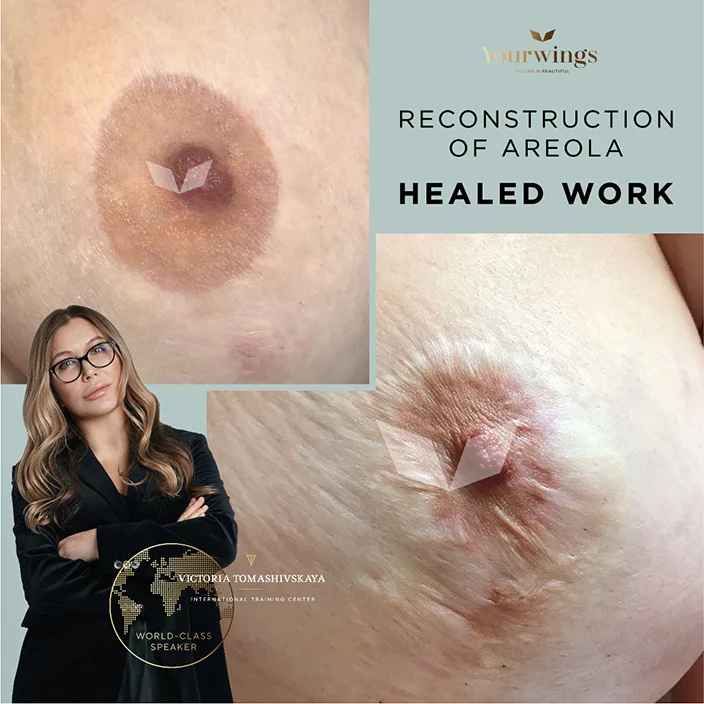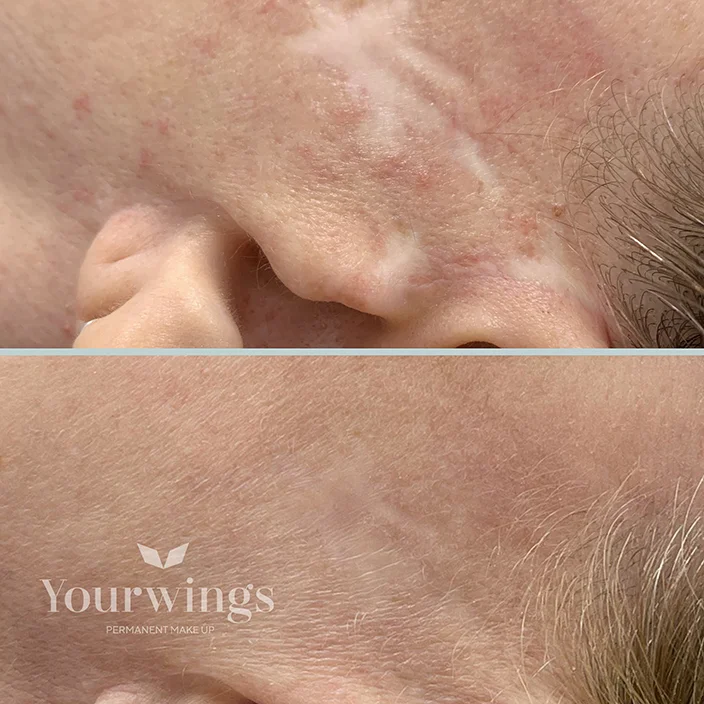 What makes these pigments different from others? And why do I work myself and recommend others to work with YOURWINGS ESTHETIC LINE?
The pigments are free of azo dyes, preservatives and traces of heavy metals, which are common, for example, in tattoo pigments. Abroad they are already actively struggling for pigment purity. We can predict that the experience of their Western colleagues will soon be adopted in Russia. The higher is the content of harmful components, carcinogenic substances, the higher are risks to human health. And the amount of pigment that we put into the skin in camouflage can be significant.
The superb palette of natural shades is designed to precisely match any skin tone or areola. It is much more convenient to work with a wide palette from which any desired mix is created very quickly, than to mix colours from 3-5 pigments, selecting the exact proportions. Speed is of the essence these days.
Predictable, aesthetic, sustainable and long-lasting effects. This is infinitely more important when working with skin. Even if you are more or less versed in pigments and can dye vitiligo to match your skin colour, over time you will still not get the discreetness in camouflage that the client wants. Work on tattoo pigments is always visible after a while, even on the lip, eyebrow or eye area, and if we are talking about correcting scarring, vitiligo, skin dyschromia or areolae, you have to understand that this is a very high level of demanding. My experience is that with Yourwings we get very aesthetically balanced work and avoid the "putty" results that are present with tattoo pigments. This quality cannot be overstated.
They are economical to use. They are very easy to work with because they are highly viscous. They have a thick, gel-like texture that helps you apply the pigments beautifully and easily to the skin. And their consumption is absolutely minimal. Therefore, your work will always pay for itself.
Anyway, give me one reason not to work on these pigments! I couldn't find one.